Nexen Buzzard Platform commissioning support
During Buzzard platform commissioning Amine absorber foaming was causing frequent trips leading to flaring and production loss.

System design was reviewed to analyse the root cause of  foaming in the absorber and short term as well as long term solutions were made.

By tweaking the operating parameters the gas plant was brought online without any major modification.

Vishwas Shinde got Recognisation by Nexen and PSN Management through in-house magazine article (Attached below) for Commissioning Buzzard platform with sustained oil & gas throughput at required export quality and for increasing oil production from 80,000 bpd to 220,000 bpd.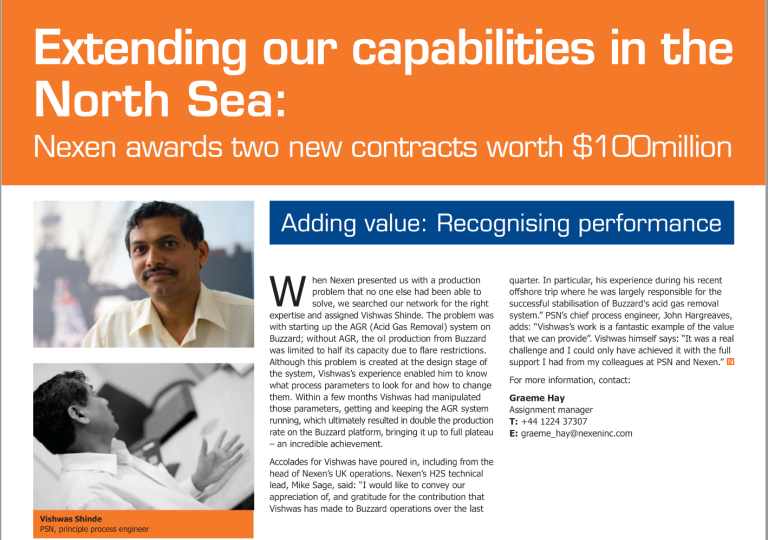 Solvent selection study for North Sea Platform
Review the simulation results from various solvent supplier to check that company's overall processing requirements (operating conditions, circulation rates, solution loadings, filtration rates, heat duties, specific reboiler duty, stripping rate, etc.) are satisfied.

Assess hydraulic performance of column packings and trays using vendor software.

Assessment of all Heat Exchangers performance for the revised conditions.

Review of flash drum including flash gas rates.

System hydraulic checks for various solvents using existing pumps.

Review of Solution filtration requirements.

Review of Regenerator /reboiler hydraulics.

 
UK North Sea Platform -AGR unit Operation Optimization
Foaming issue (retrograde condensation) –Absorber inlet temperature optimization

High Flaring (high solubility of HC in amine solvent) –Optimized the absorber operating pressure

Higher H2S in outlet gas spec –Preferential absorption managed by changing the activator concentration and removal of top absorber packing bed (lowering the CO2 absorption)
         Results Achieved
As a result of continuous smooth operation of Acid Gas Removal unit oil production increased from 80000 bpd to 180000 bpd. 
          Flaring of the platform reduced extensively
UK North Sea Platform -AGR Flash Gas Recovery
Recycling of heavy hydrocarbons leading to high foaming in Absorber –Flash Gas redirected as assist gas saving good quality fuel gas.

High Flaring due to frequent AGR trip–Optimized the absorber inlet gas composition by re-adjusting the recycle streams
          Results Achieved
Increased gas export by improved AGR availability and saving good quality gas

Reduced flaring. 
UK North Sea Platform Booster Pump–Low Suction Pressure Trip
Booster pump low suction trip set point (absolute pressure) based on required NPSH caused several pump trips– Changed to dynamic set point adjustment according to separator pressure.
         Results Achieved
Improved pump continuous operation & pump availability.

Improved production performance by avoiding platform trips and hence minimizing the platform flaring. 
UK North Sea Platform Blowdown – Low Temperature Issue
Localized cold spots (Integrity Issue) caused by liquid collection in low points during blowdown – Moved the blowdown valve near to the low points locations.

Hydrate formation during blowdown leading to Blowdown Restriction Orifice blockage causing delayed blowdown – Single RO changed to multiple orifice assembly.
        Results Achieved
Improved blowdown performance

The concerns about mechanical integrity ( lower temperature than Minimum Design Temperature) and hydrate blockage were removed to improve the plant availability and staying within the allowable risk level. 
UK North Sea Platform NGL Pump–Multiple Seal Failure (average frequency once in month leading to revenue loss of $300,000 per day)
Multiple NGL Pump Seal Failure leading to NGL export loss – Pressure fluctuations in LT Separator was causing vapor breakout at seal faces and hence dry running of seal faces. LT Separator pressure controller tuning dampened the pressure variation.

Hydrocarbon emission due to seal failure – Stable LT Separator pressure reduced the seal failure.
          Results Achieved
Availability of NGL Pumps improved to export NGLs along with crude oil export achieved revenue gain of $300,000 per day.

Reduced risk level (personnel exposure).
UK North Sea Platform Oil Export Pipeline–Vibration Issues
High flowrates through export control valve results in unacceptable vibration levels – Recommend to use two control valves in parallel to stay within the vibration levels by sharing the flow load and hence avoiding flow induced vibrations.

Potential risk to export pipeline and hence loss of containment – Vibrational analysis of the pipework carried out and checked adequacy of the pipe supports.
         Results Achieved
Significant reduction in crude export pipework vibration levels and hence minimal risk of fatigue failure.
UK North Sea Platform Souring of the Field–High H2S content in reservoir fluid than envisaged
Higher H2S in AGR inlet overloading the amine unit – the souring of the field was due to high sulphated sea water injection. Recommended to install Sulphate Removal Plant (SRP) as part of Sea Water Treatment Scheme.
         Results Achieved
         •  Souring of field and hence higher H2S production in the reservoir fluid kept under control.
Late Life Extension Project UK North Sea
Issues (Without Life Extension): Integrity issues, Increasing OPEX, Decreasing base production, Prematurely reduced field life

Scope covers Process Simplification, Process Control and Safety System upgrade, Structural Integrity assurance program, Topsides Integrity assurance program, Infill Drilling program
Typical Asset Life Extension benefits
Additional revenue 3.8 billion

50% operating cost reduction

30% risk reduction

300 million deferred decommissioning cost
BW Offshore – Produced Water Injection System Modifications
High DP across filters within PW system causing filter elements damage– Water hammer study conducted, and recommendations shared

Altering the Shutdown Valve closing time (slow closing between 85% to 100% closing)

The recommendation proposed was cost effective and easy to implement than what client wanted to implement
Chevron – Produced Water Guidelines
Prepared Produced Water Guidelines on the available technologies.

Provided the main features of each produced water treatment technology, including a description of the principle of operation, expected efficiency, typical operating range and the main factors influencing performance

The main control features of each technology were described and typical installations P&ID's shown to illustrate the main features of the equipment in a typical full scale installation
 Design Review of Akal J Desalting & Produced Water Treatment System
Reviewed the equipment configuration and associated instrumentation and controls for sustainable performance

The selection of suitable chemical injection (emulsion breaker and desalter chemicals) was critical for achieving the required separation efficiency

Corrosion issues due to high H2S were addressed. The by-products of the corrosion process were acting as an emulsion stabilizer agent reducing separation efficiency.
North Sea Platform Produced Water System Review
Carried out Buzzard PW Degasser design assessment.

Reviewed the operability of the degasser vessel.

Reviewed the potential for scale formation due to the commingling of the seawater and produced water streams.

Reviewed the possibility of installing temporary CFU downstream of Hydro-cyclone and upstream of degasser to achieve better PW quality.
Fire Water Network Analysis for Perenco UK
Adequacy check of Fire Water Ring Main – Conduct Hydraulic study of fire water network for the expanded facility.

Transient analysis covering startup, shutdown, simultaneous operation of Jockey, Electric and Diesel Driven pumps.

Water hammer/surge analysis.
Dynamic Simulation Case Studies for E-1570 
TCV-1570 closure Delay introduced to avoid pressure surge (cause of temp excursion).

Existing model provided by PDMS was modified to high fidelity  Hysys dynamic case for this study.

Steady state model for heat exchanger loop was also built to validate H&MB and initial condition before running scenario.

Detailed gas-glycol exchanger loop was modelled for rigorous dynamic simulation results.

Cases were run to find out effect of maximum acceptable metal temperatures on PST time (PST times for different temperature).

Finding out effect of ambient temperatures on startup time (Different pipe insulations were detailed in model for getting rigorous results).

Finding out temperature excursion during start up after hot shutdown.
Produced Water Capacity and Asset Integrity Review for Minerva Facility of BHP Australia
Reviewed the formation water handling capability of Minerva Facility.

The impact of high salt level accumulation in the Produced Water Processing and MEG regeneration on possible corrosion and asset integrity was reviewed and mitigation measures identified (short term and long term).

The major risk was found to the austenitic Stainless steel components at temperatures above 50 Degrees C, especially if there is even small concentrations of oxygen in the MEG system.
Acid Gas Injection Project for LNG Plant in Qatar
Understand the compressor configuration and compressor path.

All design, safety, and reliability issues have been reviewed and evaluated assuming a spare compression train is available.  Operating all three trains would require detailed design and safety reviews with possible equipment modifications.

Corrosion issues in AGI system ( weight loss corrosion and Sufied stress corrosion) were reviewed for carbon steel material based on possibility of formation of free water and H2S partial pressure.

Compressor cooling were reviewed so as to ensure the gas stays in the dense phase.
UCARSOL flash contactor re-design for LNG Plant in Qatar
Engineering the modifications required to replace the undersized UCARSOL flash wash column.

Re-designing of 

UCARSOL flash wash column was carried out to ensure all flash gas generated are processed through new column so as to reduce the flaring.

Shut down requirements were reviewed and accordingly planned all the activities to ensure modifications are completed on schedule.